Everything, Everything - Nicola Yoon
April 30, 2016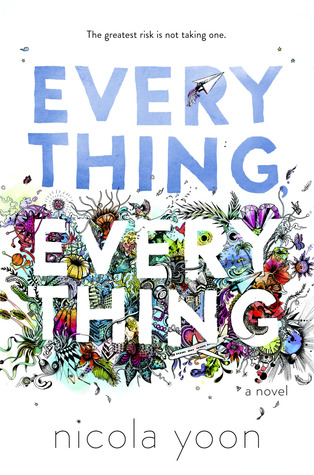 Image from Goodreads.com
Intermission:
So... I did some background research on the author because that's what I do. Also, her surname is 'Yoon', which is a Korean surname. Turns out that the author is black, not Korean. Her husband is Korean. When I found out I was like, "Okay, cool."
Now for the review...
Title:
Everything, Everything
Author:
Nicola Yoon
Genre:
YA, romance
Blurb:
Maddy is allergic to the world. She hasn't left her house in seventeen years.
Olly is the boy next door.
He's determined to find a way to reach her.
Opinion:
B
asically, I regret buying the book (Heck yeah I'm picky). I have been told many times not to judge a book by its cover and boy have I learned the importance of that phrase. I wish I had looked past the beautiful exterior. I was even warned that there was insta-love in this. But no I had to give it a chance! Also, I knew that it was going to be a romance novel. Why on earth did I pick up a romance novel?
Realistically, it wasn't completely terrible. I didn't die after reading it. It was pretty decent for a debut novel. However, I had so many problems with it and that is why I'm writing a negative review.
Firstly, I couldn't really connect with the characters. Maddy was sweet and intelligent and stuff but I could not feel anything but sympathy for her. Olly... I didn't like him but I didn't dislike him either. He was okay... I guess. My favourite character was Maddy but I didn't really have a choice with the lack of depth in the characters.
The short chapters and rushed story-line did not help at all. I might have liked the characters a little bit more if it weren't for that.
The 'romance' in this novel was all sweet and innocent at the beginning and then boom! (Spoiler in white, highlight to see)

the obligatory sex scene that happens at the middle of YA romance novels because why not?

It's not like there's anything wrong with rushing relationships!
giphy.com
This book was kind of predictable. Also, the ending wasn't my favourite.
Good things - The doodles were pretty cool. The protagonist was a POC (Asian and African American). It was beautifully written.
Recommendation:
This is for fans of The Fault in Our Stars by John Green and Eleanor and Park by Rainbow Rowell. Basically.
Rating: **-
Two stars out of five
~
So, have you read this book? Are you planning to? What do think about romance novels in general?