These are the answers to my last blog post (which you should check out... if you want to) over here.


And without further ado... here are my answers!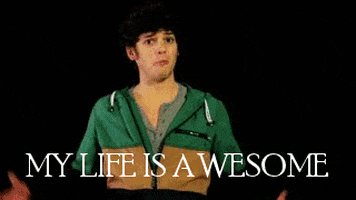 giphy.com
1. I love school and I usually try my best to attend it everyday.
This is a lie. I despise school and the fact that bullies get away with what they do. I often avoid school and deeply regret not being home-schooled. I do try to study at home whenever I can, which I think I'm getting the hang of. My phone is an almighty temptation, though!
2. I often eat sugary snacks and desserts.
Another lie. You guys don't know this but I'm actually diabetic. SURPRISE! And I have Diabetes Type 1 not 2. So yeah, I didn't get it because I ate too much junk food.
3. I admire England and Canada for having shows that often have characters of different racial backgrounds.
Heck yes. I loved watching My Life as a Popat, Kerching!, Dani's House (but not Dani's Castle), The Story of Tracy Beaker (if you know this then oh my gosh, I could fangirl for days), Tracy Beaker returns, The Sarah Jane Adventures, Four o'clock club, Sadie J, The Basil Brush Show (BOOM! BOOM!) and more! Seriously, if you know these shows... xDD
As for Canadian shows: Wingin' it (FREAKING HECK TO THE FREAKING YES!), How To Be Indie (don't judge me), Aaron Stone (DIS-NEY, X-D) and others.
4. If I could, I would learn Chinese (mandarin), Italian and Japanese.
This is 100% true.
5. I like to share my food with others.
Haha. As if. But... if you'd like to share your food with me, I won't mind ;)
6. I eat rice at least twice every single week.
Obviously. My favourite type of rice is jollof rice, but my mum doesn't make it often anymore :/ But when she does: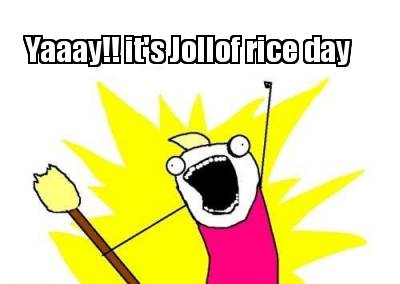 Mememaker.net
But when it's finished quickly...
happenings.com.ng
7. I've never had a crush on a guy I have ever seen in real life or a guy that lives in the country I currently reside.
Ugh, this is getting personal now. Why did I even include this?! This is true. I usually like guys on YouTube. Not because I'm shallow, it just happens and also they won't find out. You guys are gonna judge me after reading this xD
rebloggy.com
8. I hate the colour pink.
What a nonsensical lie. Pink is obviously the best comment on this planet.
9. I want to be an English teacher in a foreign country when I grow up.
Well, I doubt I can grow any taller at this age (why am I being sarcastic to myself xD) but yeah. When I finish college, I wanna teach in South Korea. Heck yes.
I was actually surprised by how fun this was! So.. how many did you get right (or wrong) and did anything shock you?