Beautiful, Broken Things
January 05, 2017
Genre:
UKYA, Mental Health, Contemporary
Blurb:
Caddy and Rosie have always been inseparable. But that was before Suzanne.
Now Caddy wants to be more than just the quiet one. She wants something to happen.
I was brave.
Suzanne is trying to escape her past and be someone different. Someone free.
She was reckless.
But sometimes downward spirals have a momentum of their own.
We were trouble.
And no one can break your heart like a best friend.
Intermission:
You see that blurb? You see it? There's no romance in this story. NO ROMANCE!
At the beginning of this book, Caddy was pretty much a sucker (soz Caddy). I had to say it.
Also, Caddy seemed a little boring at the beginning. As an introvert who's also very shy, I was very aware of the fact that people probably think I'm Caddy. Of course, I could also relate to her when she was awkward with Suzanne at first.
"No," I said awkwardly. "I'm just coming for the pizza."
"Oh." She looked confused. Obviously the idea that someone wouldn't jump at the chance to go to a party full of strangers was alien to her. We were clearly never going to be friends."
I know the feeling, Caddy!
But despite all odds, Caddy and Suzanne eventually grew closer. *gasp* Who would've known?
Unfortunately, Suzanne was trouble. She was a very bad influence on Caddy. Even Rosie, who introduced Suzanne to Caddy, stood her ground whenever Suzanne acted... off. But Caddy, being stupid, acted defensive whenever her parents or Rosie would warn her about Suzanne even though (

she never had a habit of getting drunk at parties or smoked cigarettes or weed in order to 'become more interesting' *rolls eyes* or snuck out of her house at night regularly before meeting Suzanne

).
You see, the funny thing is that (

Caddy never seemed to fully accept that she did something very wrong. Even Suzanne developed some sense near the end of the book. SUZANNE FOR PETE'S SAKE!

)
Also, I didn't feel bad when she smoked weed and suffered.
"It's exactly like breathing in smoke," I said, my voice hoarse. "Why would anyone do that for fun?"
What did you think it would taste like, CHOCOLATE?!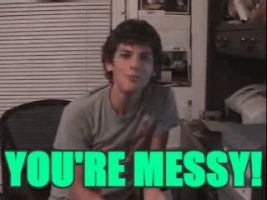 Now don't get me wrong, I enjoyed this book. Not very much, but I did. It was based on complex female friendships which we definitely need more in the YA genre. The writing was simple but beautiful at times. The book dealt with difficult issues. But if I purchase it later on, don't ask me how I can stand Caddy because really, I cannot.
Recommendation:
For those looking for YA stories without romance
3 and a half stars out of five