Mini Reseñas (aka Mini Reviews... it's in English, don't worry)
November 10, 2016
Welcome to my first ever 'mini reviews'! I decided to write the name in Spanish so that it would look a little more original than it actually is! :D




I have decided to do this because I have written a bunch of reviews on paper and a good amount of them aren't that good so I thought it would be a splendid idea to shorten them. aka longest sentence ever.


Faceless by Alyssa Sheinmel


Genre :
YA, Contemporary, Realistic Fiction
Blurb:
When Maisie is burnt in a terrible accident, her face is partially destroyed. She's lucky enough to get a face transplant, but how do you live your life when you can't even recognise yourself anymore? As Maisie
discovers how much her looks shaped her relationship to the world, she has to redefine her own identity, and figure out what 'lucky' really means.
I felt that the author did a lot of research on face transplants because it all felt very realistic.
After Maisie's transplant, she became very irritable and spent a decent amount of time complaining. I was about to get annoyed before realising that I might have done the same thing if I were in her position.
I liked how the theme of friendship was preserved in the novel despite Maisie's boyfriend, Chirag.
Speaking of Chirag, I felt that he was very close to being the perfect boyfriend. Also, he's Indian. How often do you see that? I like this representation.
Content:

Slight innuendo but nothing graphic
Rating: *** 1/2 -

Three and a half stars out of five
Improper Order (Prim #2) - Deirdre Sullivan
Genre: Contemporary, Humour, YA
Blurb: It's all most IMPROPER.
Ciara has stopped eating her hair and is practically married to Syzmon.
Even Ella has fallen for someone who is not a cat or a ferret.
And Joel and Kevin are going for coffee after Mixed Martial Arts but it isn't a date or anything, but wouldn't it be great if it were?
Eh... no, actually it wouldn't be great at all.
Can Prim defeat the evil Karen, find TRUE LOVE (and cake) but without losing her best friend - and get to be a cruciverbalist?
And how come the dog is called Wayne Rooney?
Intermission: There may be spoilers from the last book.
Prim O' Leary is back but this time as a 14 year old girl. I'm glad because Prim is more mature and has stopped using words like 'colouredy' (basically colourful but a sillier and more irritating way of saying so). She is now interested in becoming a cruciverbalist (someone who designs crosswords for a living).
Prim's best friend Joel now attends her school after leaving his past school due to bullying.
My favourite character is Ciara (who was quite shallow in the 1st book but is now sensible + hilarious). Joel is absolutely adorable and Prim... I disagreed with her so much yet I relate to her so much (the struggles, I tell you!)
Content:

Grief, Self harm, Depression, Innuendo, Kissing (but no description)
Rating: **** -

Four stars out of five but it's too short! *cries*
Front Lines (Soldier Girl #1) - Michael Grant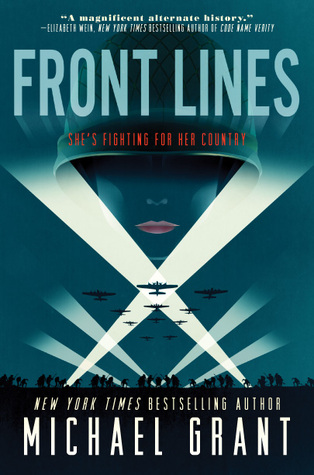 Genre:
Historical Fiction, YA, War
Blurb: Rio Richlin and her friends are going to war. But will they be strong enough to prove themselves on the front lines?
The book was written in the third person, present tense (which is quite rare) in the points of view of three females: Rio Richlin, Frangie Marr and Rainy Schulterman. I felt that they were written quite well and realistically.
My favourite character out of the three was definitely Frangie Marr, the short, African American girl who dreams to become a doctor. She was so sweet and so nice and a good example of a loving Christian. After her would be Rainy Schulterman - sarcastic Jewess and an incredibly intelligent lady.
My second favourite character was Jack Stafford, a British guy who was enlisted in the American army. He was quite sarcastic and hilarious.
"

What's with the accent?" Jenou asks.
"

I might ask you the same thing," Jack replies. "But I suppose you are remarking on the fact that I speak English as it was meant to be spoken."
I felt that the story was not too fast or slow and I liked the writing style. I found the use of euphemism interesting as the people say 'fug' instead of... fudge...
Also, it's not a standalone. I. Want. More!
Content:

Mild swearing, Racism, Innuendo, Violence
Rating: *** 1/2 -

Three and a half stars our of five
~
I have finally done this gosh darn thing! Hope you're all okay and God bless you all <3 b="">3>