Random Reflections: Productivity, Bullet Journalling and Blogging
August 11, 2017
Hello everyone! Isn't this rare? I'm actually posting on a Friday. Or maybe nobody noticed. I don't mind. I'm just going to write this now because I know that if I leave it any later, I'll just procrastinate to the point where I'll end up not posting it at all. I even jotted it down on my bullet journal just to make me look extra productive.
This is something new. I decided that instead of rambling on my posts that I want to make more posts that aren't reviews, I'll just make one. This isn't going to be the most organised post ever, mind you. I'm just going to write what comes into my mind not that my posts were super organised anyway xD
It's August. Only four months left. On a scale of one to ten how unproductive do you feel? I know there'll be super productive people out there wailing about how they practically did nothing despite reading 40+ books, finishing a whole novel or another draft or editing. They might have made so many delicious kinds of foods, written, composed and/or choreographed and progressed a lot in a language they're currently learning. To those people: Darn you. (And also: keep up the good work and don't listen to anyone who's trying to tell you (seriously) that you're being an overachiever. You are an inspiration to people even though you may not realise it. I know it may have looked like I was doing that, but I had to get your attention somehow. I do lowkey get bitter over that but it's not really a strong bitter kind of feeling. It's really lowkey salty. The feeling passes really easily.)
What were your New Years Resolutions? Have you broken them yet? I decided to play it sneaky by making mine bullet journalling. I knew that that I would never break it, even if I skipped a day or two or even a week! I did have many slumps this year but I got back up. It's also a good way to make smaller goals that lead up to bigger goals. Though I haven't done a superb job at that this year, I'll try to do it next year. And to be honest, despite wailing about being lazy (I'm trying to do that a lot less now. It really isn't attractive xD), I was a lot more productive this (and last) year than I have been since my early teens! Picking up a language and self studying isn't easy (though I did slack often. But at least I did it). I also started a blog. My own website, can you imagine? I only need to keep on working. I also don't use YouTube to procrastinate as much.
I watch a lot more videos in which people would speak Spanish and Korean. However, I've been spoiled by the people that add subtitles to their Korean videos. I'll try to look at subtitles less (hopefully)! And hopefully I will look at more Spanish videos and not ignore them in my subscription box. I also wanna write a blog post entirely in Spanish before school starts.
I read 7 books last month (longest I've read in a month this year!) and most were pretty good. I gave four stars to most of them. Is that even me?
I promised myself that I would make a bullet journalling post in July but guess what month it is now? Hopefully one will be made before I start school next year. Mind you, it won't be half as fancy as the ones you usually see and I don't care, either.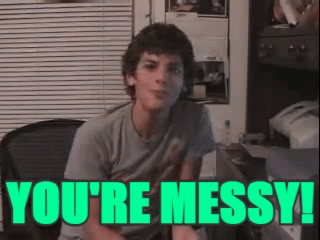 Me to myself
School, ugh. I'm starting a one year course on Creative Writing and Cultural Studies in September and I'm kinda scared but not because I already did a course last school year. It'll be weird to be in a room full of introverts. I've never met so many introverts in my life! Hopefully I won't have a hard time. I've had enough of those ._. and I want to go to uni afterwards. I wish I didn't have to go but ah well.
I want to change the design of this blog again. The reviews page is so messed up and cannot be fixed. It's sad because the next one will be darker and I just want another pink one.
"Just buy a new template, Grace."
Nah man, I gotta save money while I don't have a job xD But don't worry, it's not illegal or anything. I wanted to get a job this summer but I kind of lost hope, y'know? I also want to make better blog graphics because why not? It's a bit tricky, though. Maybe I can achieve that this year.
You know when people tell you to not write stuff on the internet that you don't say out loud. I say no way because I barely talk in real life. Sadly, I don't really know much people in real life that I can have deep conversations with. I'm such a lonely introvert. Ring, ring, call an ambulance please.
How was that? I wanted to let everyone know more about me and what goes on inside my head.
Did you guys like it, dislike it or are your feelings neutral?
After this, I have a review to write. Have a nice day.